Clean Your Carpet The Right Way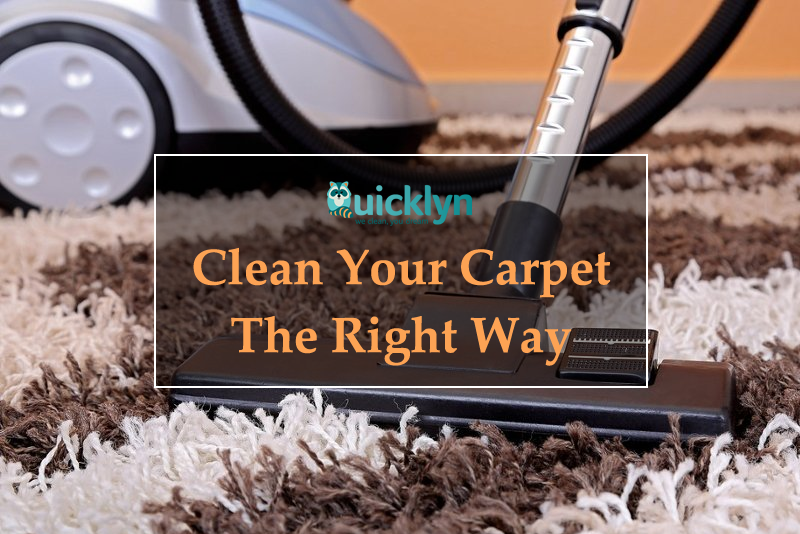 Let's show you how to clean your carpet. Among all the interior decoration elements that adorn our houses, carpets are perhaps the most under-appreciated of the lot. They cushion our bare feet during summer and provide much-needed warmth during the chilly winters. Carpet makes your rooms cosier and warmer and in the process completes the transformation of your house into a home. Having said all that, carpet maintenance is not a walk in the park and can appear to be extremely overwhelming for the uninitiated. Taking that into account, we've compiled below the list of the most trustworthy carpet cleaning techniques out there. Besides being super effective, these techniques are largely vouched for by the best carpet cleaning services in New York. Read on to find out more about them!
Use Lint Rollers
While vacuum cleaners do contribute a fair bit towards tidying up your carpet, it is simply not good enough when it comes to getting rid of accumulated crud, dust particles, and unsuspecting hair stands.
Even the most powerful vacuum cleaner out there will amount to nothing when pitted against a long-hair carpet. This is when lint rollers come into the picture. The use of lint rollers coupled with a little bit of elbow persistence from your end will render your carpet as good as new, all in a matter of a few minutes!
Squeegee For Pet Hair
Pets are a source of unadulterated joy and happiness in our lives. Agreed. There's also no denying the fact that they are not the greatest supporters of a clean and well-maintained house, particularly during shedding season. Removing pet hair from carpets can be an incredibly challenging task, especially if you're just armed with a vacuum cleaner. Depending on the amount of shedding, even lint rollers might fail to step to the task.
Throw a squeegee into the mix, however, and the equation stands completely transformed. While a squeegee is an effective tool for all kinds of carpets, it spells its charm louder in the case of carpets that have very short hairs. Primarily, squeegees are meant for window cleaning purposes but their design allows one to dislodge gunk, frost and other substances that tend to form thin layers and cling on to a surface, just as pet hair. Just water the squeegee and apply it on your carpet and see your carpet instantly getting rid of pet hair.
Iron For Stain Removal
Gone are the days when we used irons just to press our clothes. Now, it can be used as an effective carpet stain remover as well. The process, however, is not quite as straightforward as one would wish for it to be. It phases itself out in three steps.
Firstly, you need to thoroughly vacuum the spot in question to make sure that it is completely free of hard particles. At the end of the process, you should only be left with the stains that you wish to remove. Next, apply a solution of water and vinegar to the spot. The distribution of water and vinegar in the mixture should be in the ratio of 3:1. After applying the solution, you must allow it to rest on the textile for a period of 5 minutes. This lets the mixture penetrate into the fibers. Now, we bring the iron into the picture. Heat it up and spread a towel on top of the stained area. Apply the iron on top of the towel, in a similar motion as you would while pressing your clothes. The heat and pressure generated from the iron will cause the stain to be transferred into the towel, rendering your carpet spot-free in the process.
Always Blot
Our instinctive response to cleaning a spot invariably involves rubbing hard and fast on the spot. However, in the case of carpet cleaning, rubbing is the last thing you should do. If you've spilled something on your carpet, and you attempt to rub it clean, all you'll manage to do is increase its spread. Besides, rubbing also gives the substance a chance to penetrate further into the fabric, setting the wheels of permanent discoloration in the process.
When it comes to carpets, thus, the cleaning tactic of choice is blotting. It doesn't matter what kind of cleaning solution you are using. As long as you are blotting, you've got a shot at removing the stain caused by the spilled surface. This is when you apply pressure during blotting, you are actually giving your cloth or sponge an opportunity to absorb the liquid on the carpet. Make sure that you pay close attention to the direction in which you're blotting to prevent your carpet fiber from getting damaged. Further, to ensure that the stain doesn't spread further, you must resort to blotting inwards from outside the stain.
Clean Your Carpet The Right Way To Quicklyn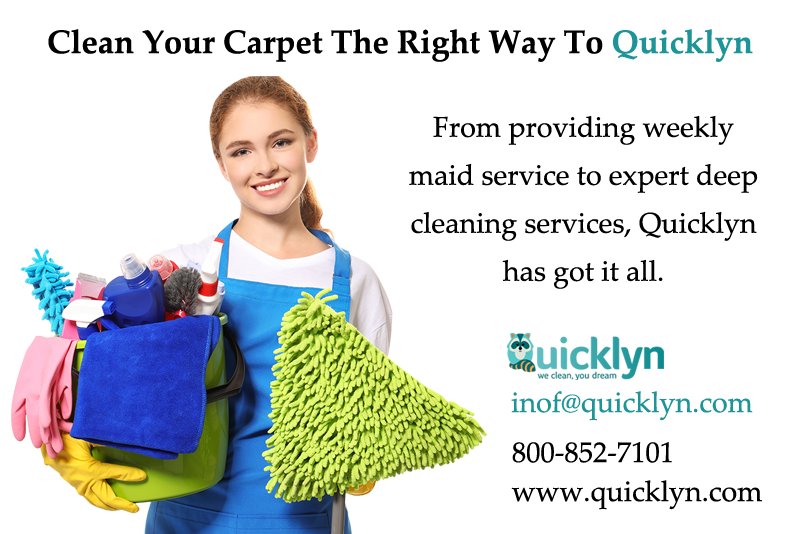 While home remedies such as the one discussed above certainly help keep your carpet in good shape, you must consider opting for professional cleaning services if you wish to see your carpet as new as ever. Quicklyn's array of professional cleaning services help you achieve just that. From providing weekly maid service to expert deep cleaning services, Quicklyn has got it all. Additionally, our special gift certificate cleaning service allows you to surprise your loved ones to take a much-deserved time-out from their daily cleaning chores.