Cleaning and Disinfecting Tips to Ensure a Corona-Free Home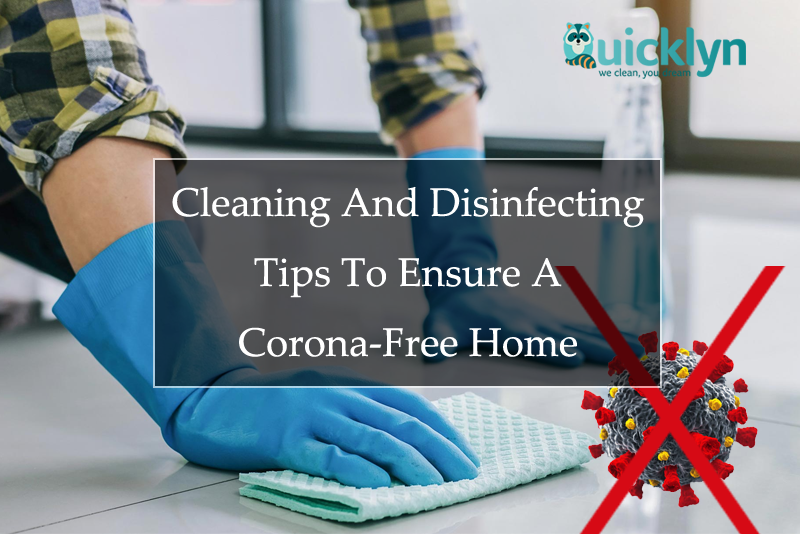 With the fatal coronavirus assuming a deadlier turn with every passing day, it has become vital for us to prioritize our sanitation and hygiene practices to keep its spread in check. Contact us if you need deep cleaning, our commercial cleaning prices are fairly low. While all of us are now being advised to frequently sanitize and disinfect our houses, it is also important that we adopt the best techniques to accomplish these tasks.
What Is The Difference Between Cleaning And Disinfecting?
At the outset, it is crucial that we understand the difference between cleaning and disinfecting for it is the latter that ensures that your house remains microbe-free at all times. Cleaning refers to simple physical cleaning that allows us to get rid of organic matter such as dirt, grime, and germs from the surface. On the other hand, disinfecting refers to the process of utilizing chemicals to effectively eliminate the virus and bacteria that inhabit the surfaces around us. However, before you proceed to disinfect a surface, it is important that you clean it first. This allows you to remove organic matter which would otherwise inhibit the disinfectant's quality to annihilate the virus and bacteria.
If you've been searching the internet to look for effective cleaning and disinfecting tips to keep your house clean and germ-free, then your search ends here. Practiced by all the leading apartment cleaning services in New York such as Quicklyn, these tips are guaranteed to keep your home free from the clutches of this deadly virus.
Clean Before You Sanitise
We get it, the prospect of just straightaway running through different pockets of your house with disinfectant wipes and spraying every corner of your house with them is as tempting as they come. However, please refrain from doing so if you haven't carried out a preliminary cleaning of your floors and other surfaces.
It is a good practice to first clean the area in question with a mop, cloth, or a soapy sponge before you go ahead with disinfecting it. Moreover, you are also advised to leave the disinfectant undisturbed for approximately 30 seconds before wiping. Here are a few additional cleaning tips you could follow:
When you are cleaning your house, focus more on the high-touch surfaces like tables, countertops, doorknobs, light switches, and handles.
Make it a point to clean all these high-touch surfaces regularly (preferably daily) and after you have visitors in your house.
If you think that a certain surface of your home is looking visibly dirty, then don't hesitate to clean it even if you had already done so a few days ago.
If there are people in your house who you think are at a greater risk of contracting COVID-19, then amp up your cleaning and disinfection frequencies.
While cleaning surfaces, ensure that you use products that are suitable for each surface. If you wish to gain more clarity regarding their usage, you could always go through the instructions on their product labels.
Attend To Your Kettles And Cupboards Without Fail
In the course of attending to larger and more noticeable high-touch surfaces such as kitchen countertops, people tend to overlook the cleaning of other similarly frequently-touched objects such as the coffee machine, appliance handles, kettles, makeup packages, door and window handles, remote controls, and cupboards.
While it'd be ideal if you could sanitize the above-mentioned surfaces and objects daily, we also understand that it is rather physically impossible to do so. Hence, what you can do instead is attend to them every alternate day with a bucket of warm water (infused with a sanitiser), and a soapy sponge.
Keep Your Sponges In The Dishwasher
While attending to our cleaning duties, we often tend to forget the fact that the most contaminated objects in our house are the very items we use to tidy up the remaining objects and surfaces in the house. The same goes for your kitchen sponges. If left unattended, it can play host to as many as 19.6 billion bacteria. However, there's a simple fix to it- pop it in either the dishwasher or your washing machine. Scrubbing it clean with a bucket of hot soapy water works just as well.
How Can You Reduce The Contamination Of Surfaces?
In addition to cleaning, you could also adopt the following tips to curb the contamination of surfaces:
Try and limit the contamination of surfaces from airborne particles and keep from touching surfaces with contaminated hands.
Requests your visitors who are not fully vaccinated to keep their masks on at all times.
Before you consider inviting guests to your home, make sure that you comply with the guidance that is in place for fully vaccinated people.
Isolate the people who are COVID-19 positive, irrespective of whether they are symptomatic or otherwise. Take help of professional cleaning and sanitizing services to attend to the cleaning duties of their rooms.
Ask everyone in your household to wash their hands every time they make contact with a high-touch surface. Be more vigilant when they're returning from outside activities.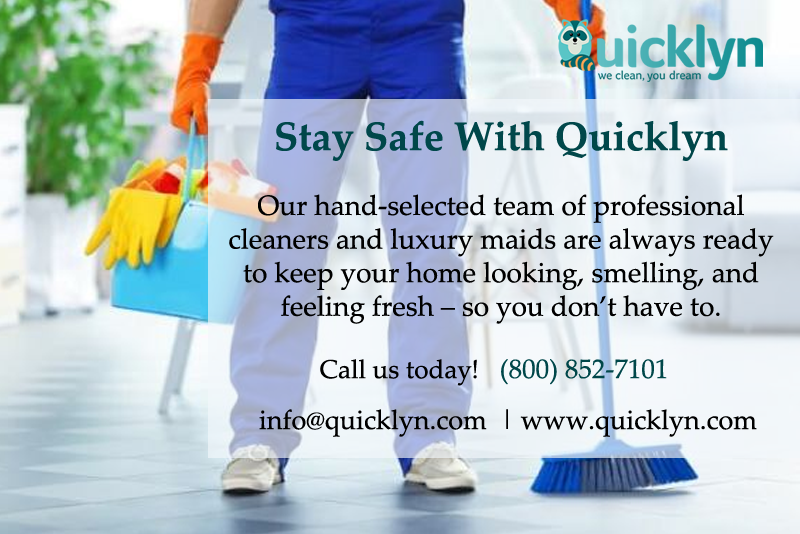 Stay Safe With Quicklyn | Checkout our Commercial Cleaning Prices
As the pandemic has caused commercial cleaning prices to go through the roof, Quicklyn remains committed to its vision of elevating the health standards of the maximum number of houses through its extremely affordable housekeeping services cost. Our hand-selected team of professional cleaners and luxury maids are always ready to keep your home looking, smelling, and feeling fresh – so you don't have to.