Maid Perfect Cleaning Services: A Handy Guide To A Clean Home For Dog Owners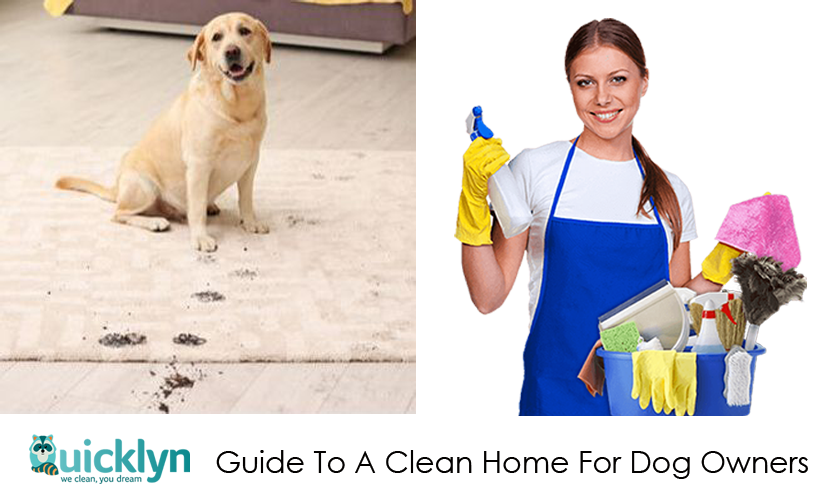 Get maid perfect cleaning services with Quicklyn. This world is a better place with dogs- there is no denying that. Dogs are faithful, loyal, goofy, adorable, and basically the symbol for everything that is good on this planet. However, despite their blessed existence, man's best friend continues to be at loggerheads with cleanliness, and hygiene. And that can be a cause of concern for the majority of dog owners out there.
Man's Messy Best Friend
During this pandemic that had announced itself in the first half of the previous year, many people opted to get themselves a puppy to escape the continuous onslaught and monotony of online classes and hectic work from home schedules. What seemed to be the best decision at that particular moment, appeared to lose a little bit of its sheen in the months to follow as the puppy blossomed into a dog and started exacting its rivalry with tidiness and sanitation.
Dogs are restless, and incredibly lively creatures. Having to stay indoors all the time was as unprecedented a verdict for them as it was for us. Left with no other choice, all they could do now was channel their energy into pacing back and forth through the house and leaving a messy (and occasionally muddy) trail in its wake. The dog owners, for their turn, had no choice but to juggle their time between attending their zoom calls and cleaning up after their furry companion's innocent mess.
Sounds pretty unmanageable right? Well, not if you have the right solution. Let's face it- the current situation is nobody's fault really. And imagining a life without a dog is pretty miserable, to say the least. So, what's the work around? Adopting steps that will ensure that your house is clean even when your dog is messy. This is where an excellent home cleaning service comes into the picture. Keeping that in mind, we've curated a list of tips below that are both dog and human friendly. Read on to find out more on Maid Perfect Cleaning Services!
Regular Grooming
One complaint that all pet owners have in common is the shedding fur of their dogs. Initially, it is seen in the form of tumbleweeds of white hair that frequent the upholstered couch and roll along the baseboards. With time, however, these patches of hair take the same color as their canine owners. The only effective solution for this is regular grooming.
Regular grooming not only helps you to cut down significantly on shedding but also doubles up as a great bonding activity between you and your dog. The best part? You have absolutely no need for visiting a professional groomer. All you need to do is just brush your dog a few times each week. A good practice is to brush outside to avoid the risk of allergy-inducing skin particles from being scattered around the house. Additionally, regular bathing helps your dog get rid of unpleasant body odors, should they have any to begin with.
Wipe Down Muddy Paws
Every time your dog goes out for a walk in the backyard or your neighbourhood, keep a towel and possibly a shallow tub of water at your disposal. This way, when your dog comes back into the house after their routine stroll, you can wipe their muddy paws clean before they enter the house.
Dogs are experts at slinging mud all over themselves, and on occasion absolutely love rolling and splashing in puddles. Agreed, while it is extremely cute to look at from a safe distance, it is equally troublesome when you are faced with the prospect of scrubbing those muddy trails clean from your floor. The best way to avoid this possibility, thus, is to clean your dog's paws at the doorstep before allowing them to walk into the house.
Keep A Place-mat Under Your Dog's Dish
Tackle the food and water splatter that your pet dog causes during their meals by keeping a place-mat under their dish. Ideally, this place-mat should be of such a material that can be easily cleaned using soap and water. Alternatively, it could also be a rug or a small mat that you can toss into your washing machine once every week.
To ensure that no harm comes their dog's way, owners are advised to use nonporous silicone or stainless steel food and water dishes for their pets instead of plastic ones. Because plastic dishes are porous in nature, they end up playing host to bacteria that can prove to be really detrimental to your pet dog's health.
Vacuum Frequently
Vacuuming your house frequently is indispensable towards maintaining a clean home as a dog owner. Irrespective of how much you brush your dog or wipe their feet, they'll always be dirt and pet hair in the house that you can only get rid of through vacuuming.
Owners are advised to vacuum their houses at least once a week, and the high traffic pockets of their household more frequently. If you happen to have more than one dog, then the frequency of vacuuming should obviously be higher as well.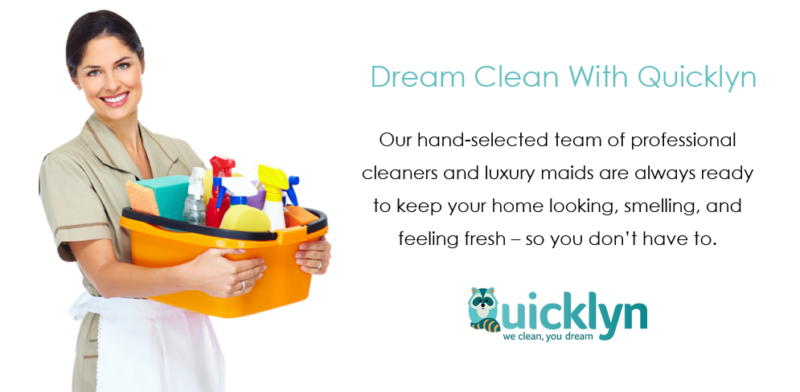 Dream Clean With Quicklyn | Get Maid Perfect Cleaning Services
Quicklyn's mission is to go above and beyond to ensure your home remains clean and safe. Quicklyn's cleaning services are helping to keep NYC homes spotless. We get it; house cleaning is a tough job. Our hand-selected team of professional cleaners and luxury maids are always ready to keep your home looking, smelling, and feeling fresh – so you don't have to. Whether you're looking for a regular touch-up or a full deep-clean of your entire home, our professional cleaners are equipped to deliver. Our team members have extensive experience with house cleaning. Quicklyn upholds high levels of quality, trust, and care. All of our professional cleaners are respectful of you, your family, and your home. So, the next time you think of searching for a "cleaner near me", save yourself some time and book Quicklyn instead.