Level Up Your Bathroom Hygiene With These Tried And Tested Bathroom Cleaning Tips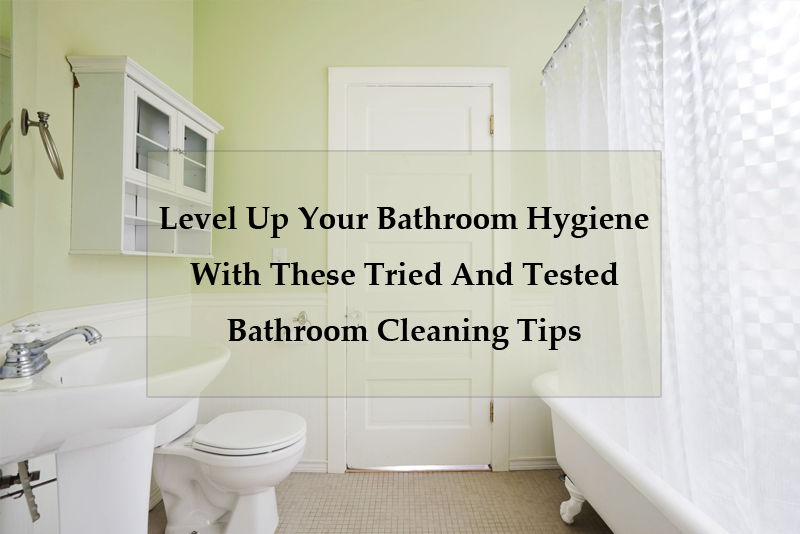 Very few people actively look forward to cleaning their bathrooms. It is the chore that most of us want to keep at bay for as long as possible. After all, who's ever claimed to love scrubbing toilets or taking on mildew stains head on? However, that doesn't mean it needs to be a completely thankless task or a particularly time-consuming one as well. A clean bathroom is not just a mandatory prerequisite for maintaining a healthy home, but also incredibly rewarding. Keeping that in mind, we've listed below some proven cleaning tips that will help you keep your bathroom in sparkling condition round the year. Spoiler alert: They're all extremely easy to carry out. Read on to find out more!
Use Vinegar To Clean Your Shower
If you want to preserve the sparkle of your shower tiles forever, then all you need to do is make a trip into your pantry. Yes, you heard us right. This is because the secret ingredient to glistening shower tiles is white vinegar. The process is fairly straightforward too.
Take out some vinegar into a container and heat it up in a microwave. Next, pour it into a spray bottle and apply it on your tiles while the vinegar is still hot. If the pungent odour of vinegar proves to be particularly overwhelming for you, then you can add a tablespoon of dish soap to the mixture. Besides neutralising the smell, this addition can also help cut through tough grime.
Use A Dish Brush To Scrub Mildew
If you've got mildew or surface mold in your bathroom, then the best way to get rid of it is by using a clean dish brush. To accompany it, you need a mold-busting cleaner. Don't worry if you're unable to find one in the market. You can just as easily make it at home as well. All you need to do is combine six cups of warm water and a quarter cup of bleach.
Once the solution is ready, dip the clean dish brush in it and scrub down the walls. Afterward, rinse well with a bucket of water or a handheld showerhead sprayer. Occasionally, you'll encounter a few stubborn mold and mildew stains that your dish brush and bleach solution won't be able to budge. In these situations, consider applying a paste of baking soda and water. Cover the stain with the paste and let it stay on the stain for no more than three to four hours. Follow it up with a thorough rinse.
Use Vinegar And Baking Soda To Deodorize A Drain
If you find your drain emitting some unpleasant odors, then whip up a simple yet effective mixture of baking soda and vinegar to eliminate it. The combination of vinegar and baking soda begins to fizz and assists in breaking up any congealed grease in your drain.
Pour a cup of baking soda down the drain along with two cups of white vinegar. Then, after half an hour, flush it with hot water. Any and all pungent smells will be sent packing right back to where they came from.
Use Dental Floss To Tidy Up The Small Parts of The Sink
No matter how sincere you are during your cleaning routines, there'll always be a few annoyingly small parts of your sink that'll always be out of reach for the average cleaning tool.
So, do these parts get the last laugh? Certainly, not. Sure, maybe the regular cleaning tool might not be able to attend to them, but the unassuming dental floss can work wonders. Dental floss is a great way to remove buildup in the nooks and crannies of the faucet and handles, and ensure they stay clean and tidy at all times.
Use A Squeegee For Your Bathroom Window Cleaning Tips
Is your usual glass cleaner failing to keep your bathroom window squeaky clean? Don't worry. There's a solution. To keep your panes clear and free of water spots, use a squeegee for your bathroom window.
The best way of maneuvering a squeegee is by using snake-like sweeping motions. This is because pulling the squeegee in straight motions horizontally or vertically can lead to streaking. While we're discussing streaks, it is worth noting that the best way to maintain streak-free bathroom mirrors is by using a microfibre cloth in tandem with a regular glass cleaner or an easy-to-make water-vinegar mix. 
Sort Out Your Cleaning Routines With Quicklyn Cleaning Tips
Quicklyn's vast suite of apartment carpet cleaning services, as well as short term rental cleaning services in New York, helps you find housemaids and provides you with top-notch cleaning options that take the burden of cleaning the house completely off your shoulders. Our hand-selected team of professional cleaners and luxury maid service are always ready to keep your home looking, smelling, and feeling fresh.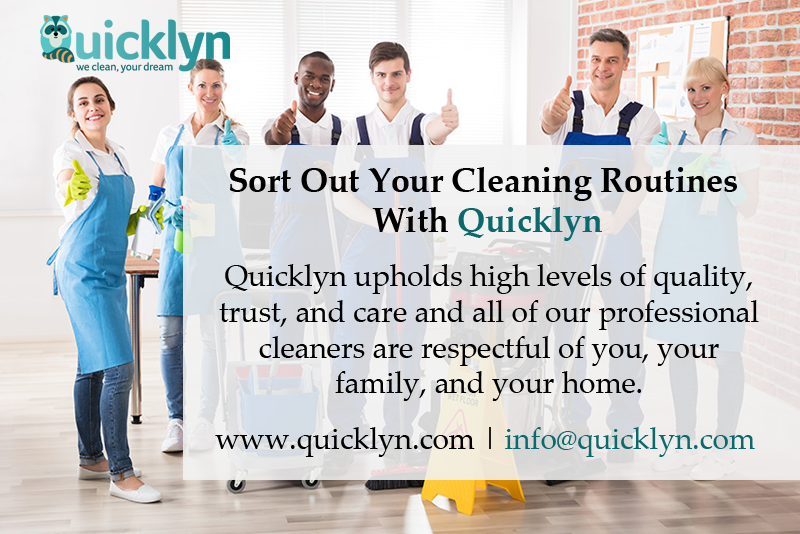 Quicklyn upholds high levels of quality, trust, and care and all of our professional cleaners are respectful of you, your family, and your home. What's more, our cost of cleaners is as pocket-friendly as it gets! Quicklyn's mission is to go above and beyond to ensure your home remains clean and safe. Its cleaning services are tirelessly dedicated to keeping NYC homes spotless. So, the next time you think of searching for a "cleaner near me", save yourself some time and book Quicklyn instead.