Say Goodbye To Hazy And Foggy Reflections With These Super Effective Mirror Cleaning Guide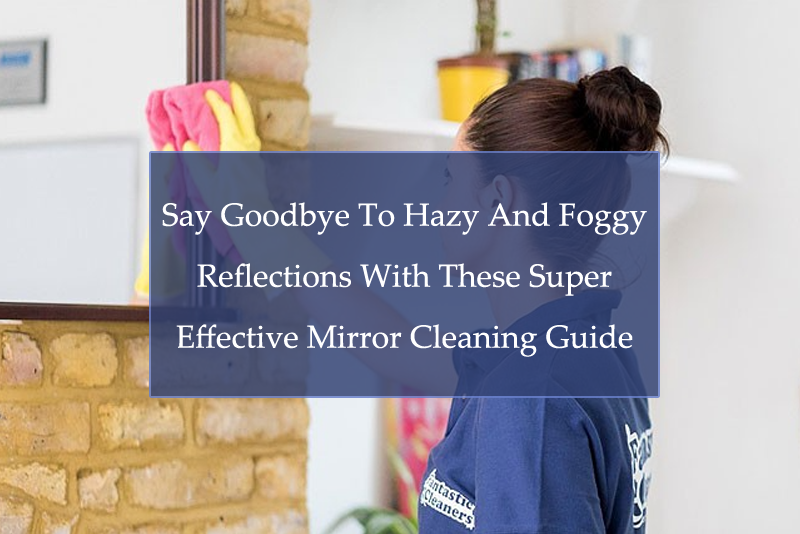 Here's a pop quiz- Which is one of the first things to get dirty in your house? Countertops, carpets, kitchen cabinets? Wrong. The answer is mirrors. No matter how careful you are, these gorgeous item always seem to end up with streaks, smudges, dust and fingerprints all over them. After all, how often have you stopped in front of a mirror, only to find yourself squinting through layers of dirt and grim to search for a reflection. Well, all that ends today. In this article, we share with you a host of highly effective tips for mirror cleaning.
 Proper Mirror Cleaning Process
Nothing quite ruins the look of your house as a dirty looking mirror. It can make your bathroom look messy, and spoil the overall elegance and ambience of your home. Having a clean mirror is one of those crucial little details that can add incredible value to your home. When you have a shiny and streak-free mirror, it can reflect the light around your home better, making everything seem brighter and bigger. Simply put, the difference that a clean mirror can bring to your space is downright unparalleled.
Unfortunately, it's not always easy to know how to best clean a mirror. Without a good technique, you could be left with a mucky, streaky mess on your mirrors. So, before we talk about mirror cleaning best practices, let us first talk about what you should not be doing.
Wiping steamy mirrors with a towel after a shower
Some people think that this is a good way to clean off all the dust and buildup. However, all it does is leave your mirror looking worse for wear. Towels do not have the right texture that is required to clean the surface of the mirror, and using them can cause scratches and other streaks to appear on it. Hence, if you want to avoid this fate, you should always use a proper cleaning cloth in combination with a verified glass cleaner.
Using a newspaper to clean your mirror
 Although it was once a reliable way to get a good look from your mirror, the ink from modern-day papers can leave residue behind. Subsequently, this threatens to cast a streaky impression on your mirror.
Wiping your mirrors with a paper towel
When it comes to cleaning mirrors, the use of paper towels is strictly frowned upon because they are notorious for leaving behind little pieces of dust. Instead, you should use a good cloth that is lint-free in nature.
Using chemicals that aren't specifically made for window or mirror cleaning
 If you find that your mirrors and glass have a hazy look to them, then understand that you are not using the right cleaner for the job. A dedicated glass cleaner has special chemicals that will never leave marks in their wake. However, if you use anything besides them, the chemicals in their composition might corrode or taint the surface of your mirrors.
Tips To Get A Streak-free Mirror
 One of the most important aspects of cleaning your mirror is the tools that you use. That doesn't necessarily mean spending a fortune on new cleaning products and equipment. You can just as well make use of materials that are lying around your home.
To get started with the cleaning process, you need a microfibre cloth. Now, it's best to use flatter ones, as the thicker ones can collect lint and leave an undesirable imprint on your mirror surface.
Next, you need a cleaning solution. This can either be a glass cleaner or a
or a simple water-vinegar mix. If you have none of these materials, then try using a combination of cotton pad and rubbing alcohol.
Now that you have the right tools, it's time to get the right technique. Below, we have presented a cleaning break-down that you can easily follow.
Tackle the messiest part of the mirror first
 The best approach to get rid of the stubborn grime on your mirrors is by scrubbing it hard with a cotton pad that is doused in rubbing alcohol. You may need to use a lot of elbow grease to get the buildup off, but try not to scratch the mirror in the process. It's important to work fast because rubbing alcohol can dry quickly.
Use your cleaning solution by spraying it on the mirror
The  trick here is not to overdo it — just a gentle spray or two will get the job done for you. If you put too much on the mirror, it will start to drip, which will make even more of a mess for you to clean up.
Wipe with the microfibre cloth
Once you have a mist sprayed on the mirror, take a microfibre cloth and fold it twice over.This will give you the cushion of a few layers to use during the cleaning process. Starting at the top, left-hand side of your mirror, and wipe the cloth to the right. Then, without lifting your cloth, wipe back to the left but use a downward angle. Continue using this wiping pattern until you reach the bottom of the mirror. It should be a zig zag or Z-type pattern, so it's easy to follow.
Finishing Touches
Finally, look at your mirror from different angles to see if you can spot any stains or streaks. You can buff these out by using a clean side of your microfibre cloth and a little cleaning solution.
Cement Your Cleaning Routines With Quicklyn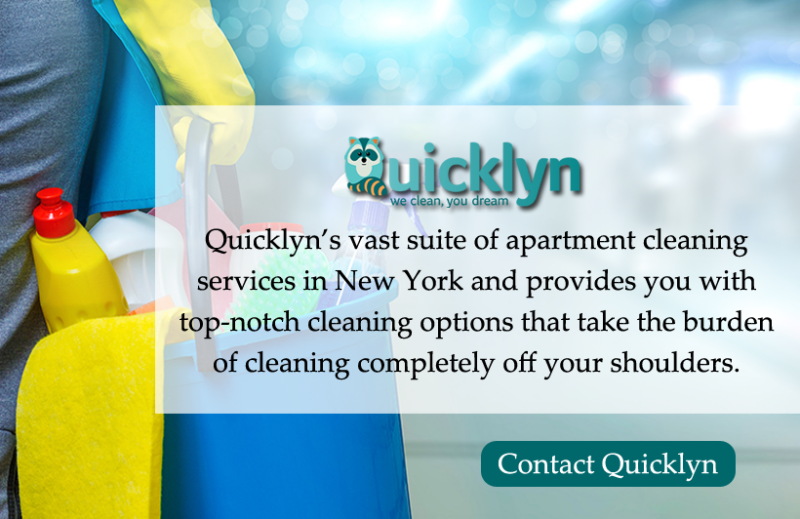 Quicklyn's vast suite of apartment cleaning services in New York helps you find housemaids and provides you with top-notch cleaning options that take the burden of cleaning the house completely off your shoulders. Our hand-selected team of professional cleaners and luxury maids are always ready to keep your home looking, smelling, and feeling fresh – so you don't have to.
Quicklyn upholds high levels of quality, trust, and care and all of our professional cleaners are respectful of you, your family, and your home. Quicklyn's mission is to go above and beyond to ensure your home remains clean and safe. Its cleaning services are tirelessly dedicated to keeping NYC homes spotless. So, the next time you think of searching for a "cleaner near me", save yourself some time and book Quicklyn instead.