Top 7 Things To Clean Before The Advent Of Winter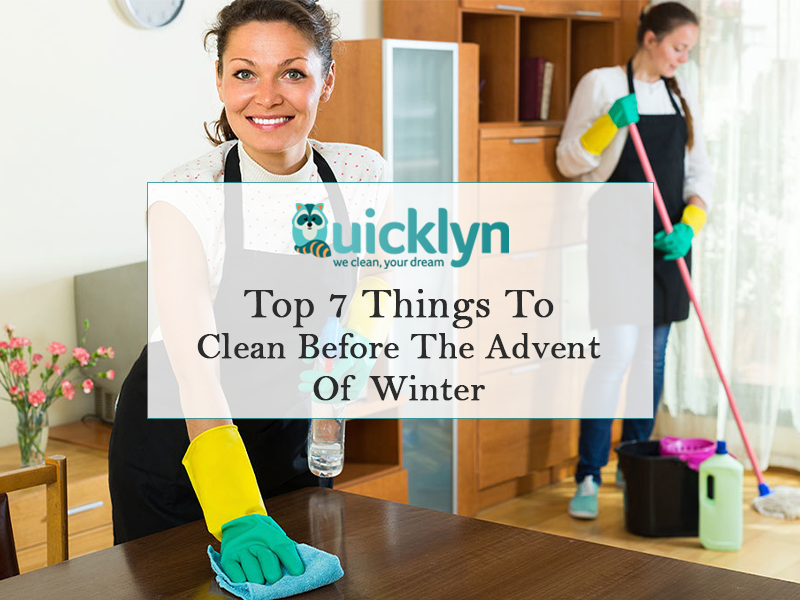 Cleaning becomes a monumental task in winter. It involves deep cleaning and disinfecting in limited sunlight and cold temperatures. Summer cleaning is challenging as it is, but with the advent of winter, we significantly need to put in more effort and time for the proper removal of stains. Not to mention, you are required to do these tasks daily since slush, puddles, and salts accumulate.
That being said, you can find luxury maids and make your life easy by getting your house cleaned in a quick and hassle-free manner. Quicklyn offers maid perfect cleaning services that provide instant cleanings, helping you alleviate stress and ensuring that your home is clean in an hour or so. Quicklyn also offers luxury maids, and you can book them for reliable and professional cleaners during winter.
Read on to discover the top 7 things that you must clean before winter!
Ovens are probably used the most during winters, for preparing delicious Christmas and Thanksgiving dinners consisting of lasagnas, cakes, roasts, and much more! That said, you would naturally not like to bake new dishes with the smell of previous food getting mixed with your cooking. This makes it all the more important to ensure your oven is thoroughly cleaned. Give your stove fan a thorough scrub to eliminate the buildup of grease. Cleaning services like Quicklyn offer oven cleanings as an extra service. Hence, you can get an estimate for the stove and oven cleanings with the standard house cleaning services you avail yourself of on a regular basis. This helps you stay within your budget and get a shiny oven and stoves to cook lip-smacking food during winter.
Another important thing to take care of before the winter season arrives is your heating registers. Your energy bills and health can take a serious hit if your register vents are coated in a layer of dust. Hence, it is a good idea to remove and wash the vents to ensure their proper functioning. Moreover, look out for any warping or cracks that can prevent the different rooms of your house from heating properly. Also, make sure you dry the vents properly before reinserting them.
Windows must be kept clean during winters regardless of the cold outside. Snow, ice, and salt all leave a nice coating of dust on your windows. This, in turn, prevents sunlight from entering your house. In fact, a dirty window can cut down as much as 20% of the sun from entering your interiors. However, it can be a hassle to try to clean your windows from the outside in the cold winter months. Hence, it is a good idea to get them cleaned before winter.
New York city winters are typically synonymous with ice, freezing rain, and heavy snowfall. Salt is usually laid on outdoor surfaces in order to melt the snow as well as prevent people from slipping. That said, this salt can cause damage to indoor floors. This is because salt gets transferred from shoes on carpets and floors which can lead to some unsightly stains. Moreover, since this happens on a daily basis, cleaning these tough stains can be pretty intimidating. In order to ensure clean area rugs and carpets, it is recommended that you schedule monthly, bi-weekly, or weekly home cleaning services from Quicklyn. This way, you can be assured that there will be no dirt or stains on your floors or carpets. You can even provide special care instructions to the cleaning service so that the cleaners take care of your carpets accordingly.
When it comes to cleaning, it is usually recommended that you start at the top and then work your way down. This will ensure that the dust from the top finds its way down, and you do not have to work twice as hard. This is why it is a good idea to clean the small and large blades of ceiling fans as they can be quite the dust magnets even when they are turned off. The dust on ceiling fans is usually not visible because of their height. However, cleaning them is important so that your couches and bed stay clean.
The best way to declutter is to move from one room to the next and gather all the linens that need washing. This includes shower curtains, bedsheets, pillow covers, and rugs. Once all the linens have been removed and collected, start picking up stray objects in your home to declutter areas. A large part of having a clean home means having organized spaces. Hence, find a proper place for every item. Declutter your home and make it look elegant and clean like luxury maids would have done.
Wastebaskets & Garbage Cans
It is recommended that you take the garbage cans out and give them a thorough clean while the weather is bearable. Take out the wastebaskets, spray them using a garden hose and then, disinfect them. Allow the cans to sit for a while and then pour them out, scrubbing the insides properly. Rinse again and then allow them to dry in sunlight as much as possible. Remember that contamination is a serious issue and can result in health hazards. Hence, it is advisable that you hire cleaning experts from Quicklyn to prevent cross-contamination as they use high-quality cleaning supplies to get the job done. You will feel much safer when your house is free from allergens and any kind of foreign bacteria.
Choose Luxury Maids From Quicklyn For Your Pre-Winter Cleaning
These tips will help you focus on cleaning important parts of your house before winter. However, to make your life easy, it is recommended that you hire professional cleaning services to get your home cleaned. Quicklyn can alleviate your stress this winter by offering expert house cleaning services with extra attention to oven and ceiling fan cleanings. You can issue special requests according to your needs so that you can have a clean and dust-free house this winter.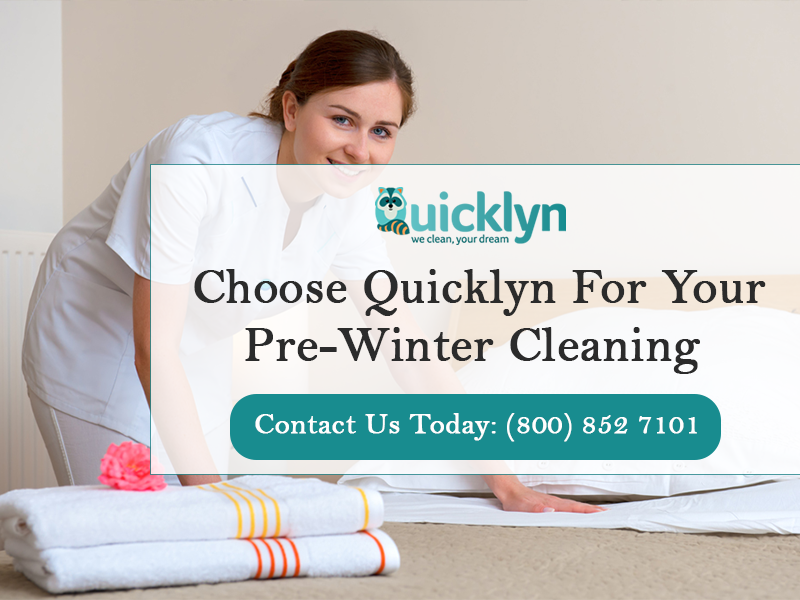 To book a cleaning visit from one of our expert luxury maids, visit https://quicklyn.com!