Why Hiring Professional Cleaners in NYC is Worth Every Penny?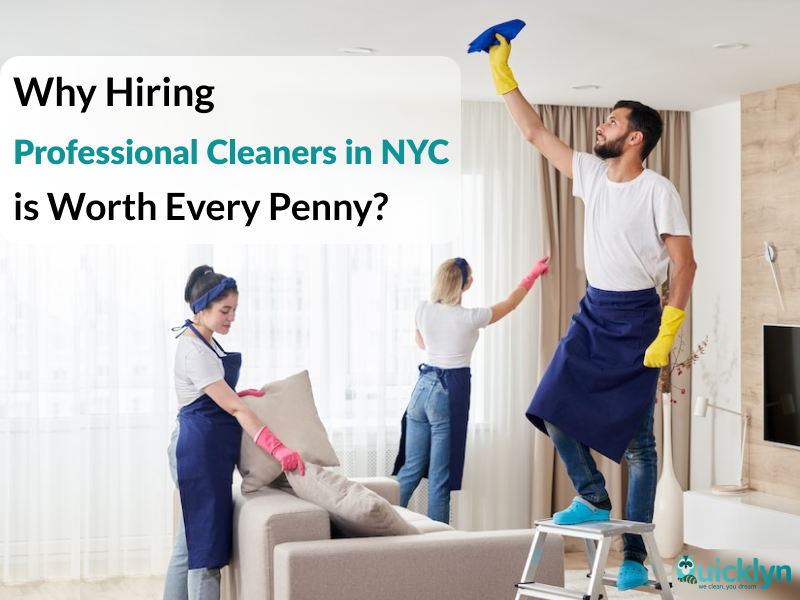 In this fast-moving world, every ambitious heart wants to reside in the bustling metropolis of New York City. Nevertheless, adapting to a city life that remains active 24/7 often demands extra commitment from its residents to keep their homes in order while balancing their professional and personal lives.
Fortunately, the urban landscape becomes a more accommodating place to fully enjoy with professional house cleaning services in Brooklyn. As per data from Allied Market Research, the worldwide cleaning services sector is estimated to achieve a market value of $74 billion by 2022. The report also underscores that this market has also witnessed a CAGR of 6.6% between 2016 and 2022.
But what advantages do New York residents derive from enlisting the services of a professional cleaning company in this region?
1.

Saves Time and Resources

If you are running under tight schedules and struggle to find time for thorough home cleaning, maintaining the pristine condition of your house can be a huge challenge. It is because cleaning involves tackling tight spots and stubborn stains that demand special attention. This is precisely where you must search for housekeeping services near me to shoulder the burden for you.

Armed with specialized techniques and the right cleaning tools, these experts can swiftly restore your home to its optimal state. Many cleaning companies even offer 24-hour services and express cleaning options, ensuring you can summon a cleaner whenever it suits your schedule.
2.

Reduction of Fatigue and Stress

Cleaning rarely ranks as anyone's preferred activity unless you are a professional cleaner. Cleaning can transform into a physically demanding and exhausting endeavor without the right tools and equipment. Thus, it is highly advantageous to delegate these responsibilities to proficient experts.

Professional cleaners bring with them valuable insights and techniques that streamline the process. It would allow you to save time. Additionally, it also reduces your physical exertion to get the cleaning done. While your cleaner handles the chores, you can utilize your weekends to obtain the rest you truly deserve.
3.

Promotion of A Healthy, Allergy-free Living Space

Regular professional cleaning sessions for your home create a healthier and safer environment. Dust is a prevalent allergen that impacts people of all age groups. It can potentially irritate the eyes, nose, and throat. However, regular cleaning can effectively mitigate these effects. It's often challenging to allocate time for dust removal when you have a hectic work schedule.

Hiring a professional cleaner in NYC on a weekly or bi-weekly basis can assist in maintaining a clean and healthy living space at all times. Investing in keeping your home clean is a more prudent choice than potentially dealing with allergic reactions that could lead to hospital visits.
4.

Maintenance of An Immaculate Living Environment

By partnering with the right cleaning company, you can establish a cleaning arrangement that occurs bi-weekly or monthly. This ensures that your space stays in top-notch condition with the least stress on your end.

While this arrangement is ideally suited for residential spaces, it might benefit more from daily or weekly cleaning schedules if you have kids. It is because they are the reason behind high activity levels. Implementing such an arrangement guarantees that your home never descends into a neglected state.
5.

Enjoy Environmentally Friendly Alternatives

Most NYC-based professional cleaning services like Quicklyn present eco-conscious options, catering to residents who prioritize sustainability in this densely populated urban setting. This eco-friendly approach aligns with the values of environmentally aware individuals.

Additionally, these professionals offer a diverse array of home deep cleaning services. It includes tasks such as move-in/move-out cleaning, thorough deep cleaning, carpet cleaning, and more. They also have the option to customize their services according to your specific requirements.
6.

Keep Your Dear Ones Happy Effortlessly

The bustling lifestyle in NYC often leaves little room for domestic chores, prompting numerous residents to opt for the convenience of professional cleaning services. This grants them the freedom to relish their leisure time without the added burden of cleaning responsibilities.

Hiring professional deep cleaning services to prepare for special occasions allows you to elevate your style and leave a lasting impression on your guests. Maintaining a regular cleaning regimen with professional services also helps you avoid any potential embarrassment when unexpected visits from family or friends occur.
How Much do Professional House Cleaning Services Cost in NYC?
Typically, the cleaning companies in Manhattan generally quote rates ranging from $175 to $300 for each visit when addressing a moderately sized home. However, you must note that the total cost of home cleaning services is affected by numerous factors. It includes factors such as the work's scope, the residence's dimensions, and the number of rooms involved. Most professional cleaning companies customarily prepare a personalized quote tailored to your specific preferences, which you can revise as per your needs.

Wrapping Up!
Residing in an active city can undoubtedly provide an exhilarating experience, but it can also become overwhelming. Nevertheless, engaging the services of a professional home cleaning company in NYC can alleviate some of your burdens, enabling you to relish life to the fullest.
Quicklyn stands as a reputable cleaning enterprise located in the heart of New York City. We specialize in home deep cleaning services, catering to individuals seeking assistance maintaining an orderly living environment.